People will remember how you make them feel, not your product features. The story of your origin is a powerful marketing tool, simply because it engages the customer beyond rational facts. In fact, it is a competitive advantage, which no can take away from you!
Invenire's focus at Vitafoods Europe 2017 was on authentic origins. The aim was to explore the utilisation of origin within the nutrition business. This post is our Show Review, so take a bit time, a cup of coffee and start reading! Here are three lessons we can learn from three different exhibitors, which give distinctive views to the various aspects of origin:
Lesson 1: Origin as the seal of the quality

In the era of 'All-Natural', Kappa Bioscience has gone the opposite route to create the natural form of vitamin K2 MK-7 synthetically. Unlike others, its laboratory origin provides a pure, non-soy variant. Additional encapsulation provides high stability, which they have also proved in shelf-life studies. Customers seem to care about this origin too. The supplement brand "Ritual" has chosen to be transparent about this origin and communicate the value of it to consumers.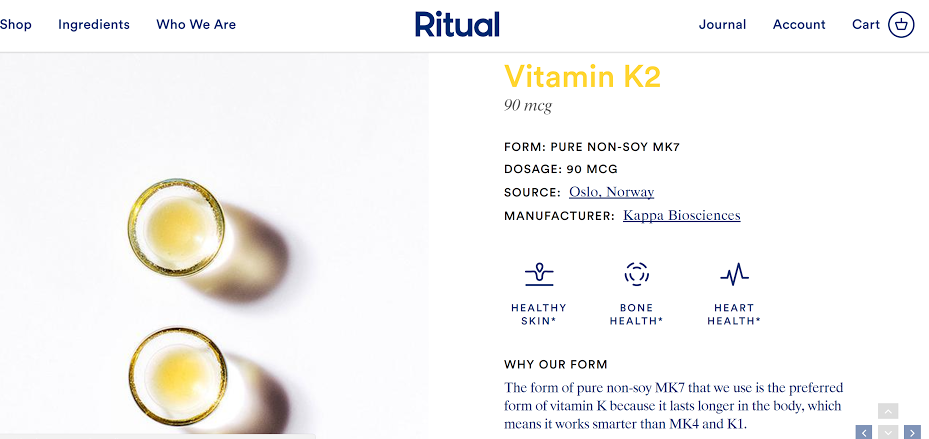 PICTURE: Ritual explains their "Open Source" thinking in this way: "We searched the globe for the ingredients that work best in the body and we are committed to showing exactly where they come from and why." (Source: https://ritual.com )
Key learnings:

Origin does not have to be about the geographical location where you come from, or the history of a family business. Origin can be utilised to guarantee quality and safety. In particular, it works with rational argumentation and strong evidence - so that higher quality is not only vague feelings, but also tangible and real.
Lesson 2: Origin providing good conscience

'Pure', 'natural' and 'sustainable' are the repeated buzzwords in the nutrition industry, but Algalif, with its Iceland-grown astaxanthin, leverages these words into something that will be remembered. Astaxanthin produced from microalgae is perceived as natural and responsible, but yet as a premium supplement, it is a "luxury" nutrition item. Algalif enables, however, a good feeling for its end users that they are choosing the most ethical option. Their production uses 100% renewable clean energy and an abundant clean, fresh water source - both unique to the Icelandic origin. This assures the end user that, while caring "selfishly" about her personal health and wellbeing, no harm is caused by producing or consuming Algalif's astaxanthin.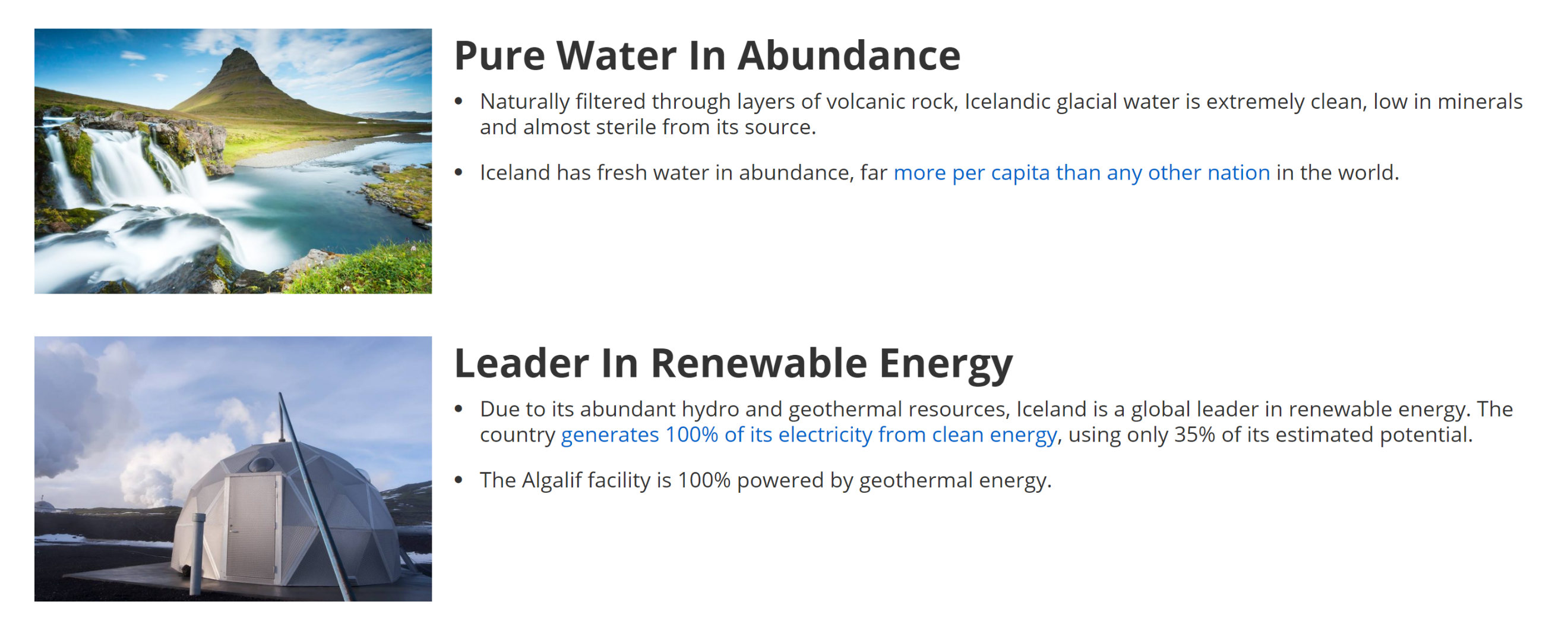 PICTURE: Unique sustainability aspects of an origin - like in Algalif's case abundant pure water and renewable energy - can also provide value for and meaning to the consumer. (Source: http://www.algalif.com/iceland/ )

Key learnings:

The purity image of a geographical location is not enough to leave a distinctive mark on people's minds. The more specific it is in rational terms and connected to emotions simultaneously - that's when the magic with geographical origin begins to work.
Lesson 3: Origin making us care

It is pretty easy to talk about one's own greatness, but few can translate that into something meaningful for customers and consumers. Ahiflower, providing plant-based omega-3 oil with stearidonic acid (SDA), provides an excellent example of how to tell a story of one's origin in a way that it makes people care. Produced sustainably with respect to farmers and the land, clearly positioned against substitutes ("Better than flax - not from fish") and providing evidence and reasons to believe their marketing makes the origin story complete.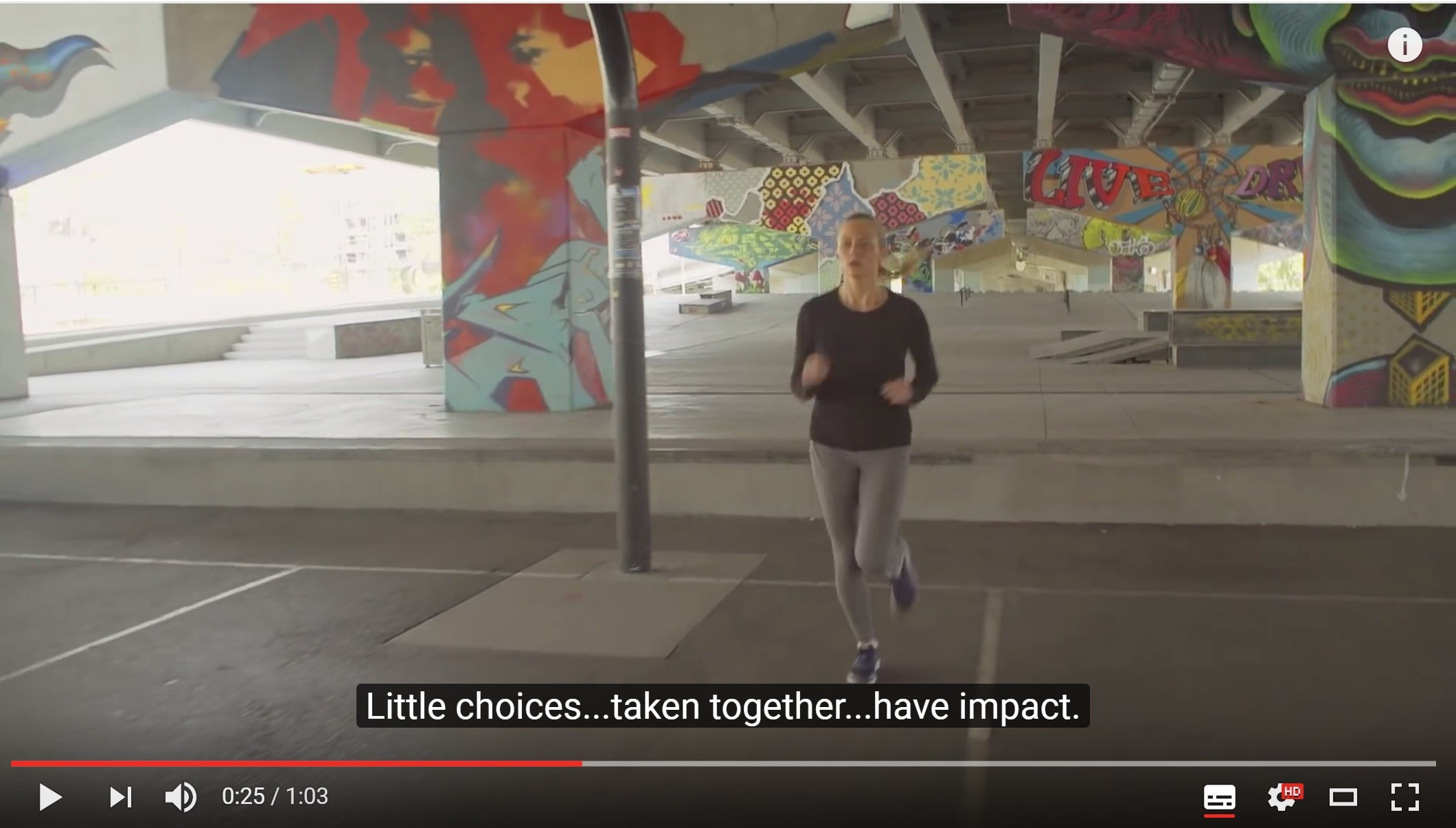 VIDEO: Ahiflower is able to communicate the story of the origin from the consumer/customer point of view throughout the customer journey. This video reflects the early journey stages. (Source: http://ahiflower.com/why-ahiflower/ )

Key learnings:

To utilise the full power of an authentic origin, it has to be translated into something utterly relevant and invaluable for the target audience. This way, and only this way, can origin help ease the sales process. It is a fine interplay between rationality and emotions that works to create something that stands out, will be remembered and people want to be part of!

If your origin - your roots, your origination and the reason your business exists - doesn't translate to clear identity, difference and something your customers value, it is time to do something about it. These cases provide three views into origin as a differentiator and competitive advantage, but the opportunities are much wider. Start exploring further inspirations around you and make your origin matter!

-------

We at Invenire feel obliged to spread the word further about how to unleash the full power of the origin. If you are interested in getting your copy of the FREE Mini Guide "Origin is your advantage", please request it here!
Please note that this post is my personal opinions only, not endorsements. While visiting these companies at their stands at Vitafoods Europe 2017, my gut-feeling indicated that they are walking the talk. I have not validated their authenticity, but they must be doing something right, when I remember them from more than 1000 exhibitors!